To this day, email marketing is still a popular, effective, and arguably the most profitable means of marketing online.
Since you are here, you are probably looking to get started but not sure how to start email marketing. Well, you are in the right place. In this blog post, I am excited to share with you 6 things you need to know before getting started with email marketing.
So without further ado, let's dive right in.
# 1: What Is Email Marketing And Its Benefits?
Email marketing at its most basic level is simply the use of email to promote your business, a product, or a service. It's used to develop relationships with potential customers and keep them informed about your brand.
Some people think email marketing is outdated and even dead, but they couldn't be more wrong. Email marketing has been used ever since the introduction of internet. It has evolved considerably since then and is still an effective and useful marketing tool.
You've probably heard that email marketing is an excellent way to build a relationship and trust with your readers. Well, it's true if you do it the right way. Spamming your links and constant promotion of your products are the fastest ways to get people to unsubscribe and to get people to stop opening your emails.
There is a saying that people only do business with people they know, like, and trust. In order to get people to know, like, and trust you, you have to be sharing helpful and informative content with your audience.
With that being said, I will briefly mention a couple of benefits of email marketing and why it's important to build a list.
Some benefits of email marketing include:
It's e

asy and low cost to get started.

It helps to improve communication.




It helps to increase website traffic.

It can yield a positive return on investment.

It strengthens brand recognition with new and potential customer.
Now, Let me give you an example of why building an email list is important.
OK, let's say if you are promoting a product or a service and you are just sending traffic directly to an advertiser's landing page. Guess what? You don't own that customer. That customer actually belongs to the advertiser. So If you are not building a list, you are going to leave a lot of money on the table.
What you need to do is you need to create your own custom landing page (also known as capture page or squeeze page) and send traffic to your landing page to collect people's emails before sending them to an offer.
When you have their email, that customer belongs to you. This will give you the ability to contact them over and over again, not only with promotions but also to offer valuable and helpful content to help build credibility and relationship in the market you serve. This will give you multiple chances to generate returns over time.
# 2: How Email Marketing Works?
Email Marketing is actually quite simple when broken down. It works like this:
You offer something for free, such as an

eBook

, a PDF download, or a video training course to attract people to give you their email in exchange for the free offer.

People share their email address and name with you.

You then have the permission to offer them more valuable and helpful content and ultimately promoting offers to them.
As long as you build a relationship and trust with them by consistently offering value and less on pitching and promoting on your offers, then they will likely stay on your list for a long time. And this will give you the ability to continue contacting them over and over again.
I am a visual learner. I believe having a visual will help you understand the email marketing process whole lot easier.
So if you follow the arrows, first you have the website visitor, this can be someone coming from search, social media, or paid traffic. It doesn't matter where they come from, what matters is that they are there with the intent to consume your content.
At the end of your blog post, you have an opt-in form of a free offer, like a free ebook or a free video training course. If they are interested in your offer, they will give you their email and name in exchange for that free offer.
As you continue to follow the arrow, the next thing they will see after they opt-in is a thank you page. It will tell them to go and check their email to confirm their subscription. This is also known as double opt-in.
Once they've confirmed the subscription, they will have the ability to download the free offer. Then the pre-written email follow up sequence starts.
The first email can be set to be sent out immediately after subscribing. You can choose to set it up however you like it. You may set the second email to be sent out on the third day after subscribing or whatever day you choose. Then the sequence continues for as long as you have the emails written out.
# 3: When Should You Start Email Marketing?
Before you start an email marketing campaign, there are three things you need to know. First, you need to establish a brand. Second, you need to have some traffic coming to your website.
If your website is only a couple of weeks old, it makes no sense to start email marketing because chances are, your website will have little to no traffic. So you want to focus more on getting traffic to your website before you start email marketing.
Just remember brand and traffic are sort of the prerequisites before starting email marketing.
The third thing you need is to comprehend your audience. This is the most important and probably the most challenging thing you need.
You might be wondering how do you comprehend your audience?
Well, you can actually do that by looking at two sources. They are google search console and google analytics. By learning and understanding these sources, you can see how your audience reads your content and how they behave on your website.
Let me give you an example. Let's say you have people searching for something on google, then a lot of them are landing on your blog post, and they are staying on the page for a long period of time. You find that out by looking at the data provided by google analytics. You can then create an offer for that particular page in exchange for their emails.
It just makes sense to do that because these visitors wouldn't have stayed if your content wasn't providing what they were searching for. So putting an offer on that page seems to be the most viable place where they are likely going to leave their email.
Just continue to produce useful content on a consistent basis. You will start to learn and understand what your audience like and dislike. Then you will be able to start your email marketing campaign and give them a tailored experience that offers everything they like.
# 4: Broadcast vs Drip Campaign?
You might be wondering what are the differences between broadcast and drip campaign? In fact, they are similar in few ways but different in others.
Below you can see the first three steps for broadcast and drip campaign are the same. They both start out with a user subscribing via opt-in form, they click the confirmation email, and then they will be subscribed to your list.
Broadcast
User subscribes via opt-in form

Clicks confirmation email

Is subscribed to your list

You manually send out email

Every time you want to communicate

No automation
Drip Campaign
User subscribes via opt-in form

Clicks confirmation email

Is subscribed to your list

You automatically send out email

Which are dripped out sequentially

Automation
Now the difference comes in at step 4.
Broadcast:
For broadcast, after someone subscribes, you manually send out emails to your list. There is no automation involved. You send out emails manually whenever you want to communicate with your list.
You can use broadcast to send out:
Promotions
Updates
New Blog Posts
Newsletters
Drip Campaign:
For drip campaign, after someone subscribes, pre-written emails are then sent out automatically to your list.
For example, after someone subscribes to your list, you can set email one to be sent out immediately, email 2 to be sent out 3 days after subscribing, email 3 to be sent out 5 days after subscribing, and this cycle continues for as long as you have the emails written out.
You can use drip campaign to send out the following:
Build a relationship and trust with your subscribers.
When you want an automated communication system that runs regardless of what you're doing.
# 5: List of Email Service Providers
I am going to provide you with a list of email service providers. This is obviously not a comprehensive list but to give you some ideas of which is available. I will share with you the email service provider I personally use for my business.
Aweber
Most popular among internet marketers

Get Your 30-day free trial Here
Feel free to download our "What to Write

" PDF guide.

This PDF includes our fill-in-the-blank email templates to make getting started with email marketing even easier.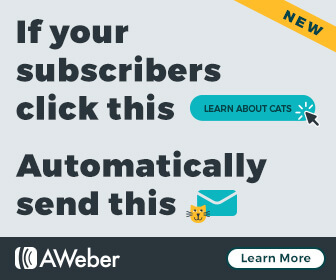 Constant Contact
It's geared towards small business and brick and mortar business.
Drip
More gear towards eCommerce
MailChimp
Has Forever Free Plan as long as you have 2,000 or fewer subscribers.

Just be aware that MailChimp has very strict policies, and they are not "affiliate friendly".

According to MailChimp, affiliate marketing as an industry is prohibited under MailChimp's Terms of Use, but affiliate links are usually fine to use in MailChimp campaigns.

If you are going to use MailChimp, be sure to read their terms and conditions carefully because you don't want to work hard building your email list and then get your account shut down and lose all of your hard work.
Getresponse
It's an All-in-one online marketing platform to grow your business.

I personally use Getresponse for my online business. I find it very easy to use.

Their live chat and support are fantastic and their price is very reasonable if you are just starting out.

G

et your 30-day free trial

Here
# 6: Setting Up Your 1St Campaign
Before setting up your campaign, you need to first sign up to an email autoresponder service. I recommend using Getresponse because I personally use it and I really like the service. Use this link to claim your 30-day free trial.
Once you've selected an email autoresponder service, below are the things you need to get started:
A campaign name

It's used for organizing your campaigns.

A branded email address

This is not a gmail or yahoo mail.
If you want to be taken seriously professionally, having a professional email address matters. You need one that matches the domain name of your website. For example, my branded email address is hong@mysteps2success.com.
Yes, that's is my real email. Feel free to send me an email if you have any question.

A series of pre-written emails for the drip campaign

Minimum of 10 emails is a good start.

Create an opt-in form

This is included in your autoresponder service.
You can design it inside of your email autoresponder.
Once you have your opt-in form designed, they will give you a code. Place that code on your website.

A free offer to get people to subscribe

"Sign up for my newsletter" is not sufficient in this day and age. You need to create an offer.

Need help writing your first offer? I have a couple of articles to help you out.

A place to put your opt-in form

At the end of your blog post
On a popup box
There are number of places to put your opt-in form, which I will be covering more about this in my next post. Stay tuned.
To create a GetResponse 30-Day Free Trial account, with no credit card required, Click The Button Below!
Sharing Is Caring!
There you have it, 6 things you need to know before getting started with email marketing.
I hope you enjoyed the article and found it helpful. If you did, please share this article with others who you think can benefit from this information.
A share from you will seriously help a lot with the growth of this blog. I really do appreciate that.
Feel free to leave any comments or questions you have, I will get back to you as soon as I can.
Have a great day!
Hong